Equipment – New equipment for measurement of permeability
25 Jan 2012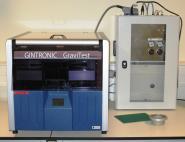 CELABOR recently completed its service offer with a GraviTest device, which makes it possible to test water vapour permeability of films (polymer or other materials) through a gravimetric method.
With a range of measurement from 20 to 40°C and from 10 to 90 % relative humidity, this equipment enables CELABOR to carry out these permeability tests in particular in accordance with ISO 2528
Project on PLA recycling
25 Jan 2012

At the beginning of 2011, the Cornet project "PLA-2nd life" started, for a duration of 2 years. The Cornet project "PLA-2nd life" is coordinated by DKI and aims to study the recycling of waste from PLA production for its re-use in food packaging. The project is supported by Wallonia. Partners are DKI (Germany), IKV (Germany), VKC (Flanders) and CELABOR (Wallonia).

PLA packaging can be manufactured with the usual polymer transformation techniques. Some production waste is generated during the production process. Usually, this waste is not valorised because the effect of recycling on the properties of the final material is ... Read more


Bisphenol A analysis
25 Jan 2012

Following the 2010 reports challenging the non-toxicity of this substance, particularly for babies and young children, the usage of BPA was banned in the manufacture of plastic baby bottles. Baby bottles containing BPA have therefore been banned for sale in the European Union since July 2011. In the case of other materials containing BPA that may come into contact with food, the specific migration limit remains fixed at 0.6 mg/kg.
Recently CELABOR developed the BPA measurement method and is therefore able to assist you in testing all your products for BPA.