AFTERLIFE WP2 lanched
06 Juin 2018




Four-year project to develop an integrated solution for the recovery and conversion of relevant fractions from wastewater to make natural additives and bioplastics

As mentioned in a previous news (AFTERLIFE Kick-off meeting), Celabor is one of the 15 partners involved in AFTERLIFE, a European collaborative project framed on the Bio-based Industries call (H2020-BBI-JTI-2016). The AFTERLIFE project proposes a flexible, cost- and resource-efficient process framed in the zero-waste and circular economy approach for the recovery and valorisation of the relevant fractions from wastewater.

The first step of the process consists of a cascade of membrane filtration units for the separation of solids in wastewater (WP1). Then, the concentrates, recovered in each unit, will be further treated to obtain pure extracts and metabolites with applications as food and cosmetic additives (WP2). Alternatively, the recovered molecules can be converted into value-added biopolymers (PHAs = polyhydroxyalkanoates), using specialized microorganisms (WP3). Moreover, the process also provides an ultra-pure water stream, that can be reused directly. As planned in the proposal, work package 2 (WP2- Purification of compounds of interest) officially started April 19th.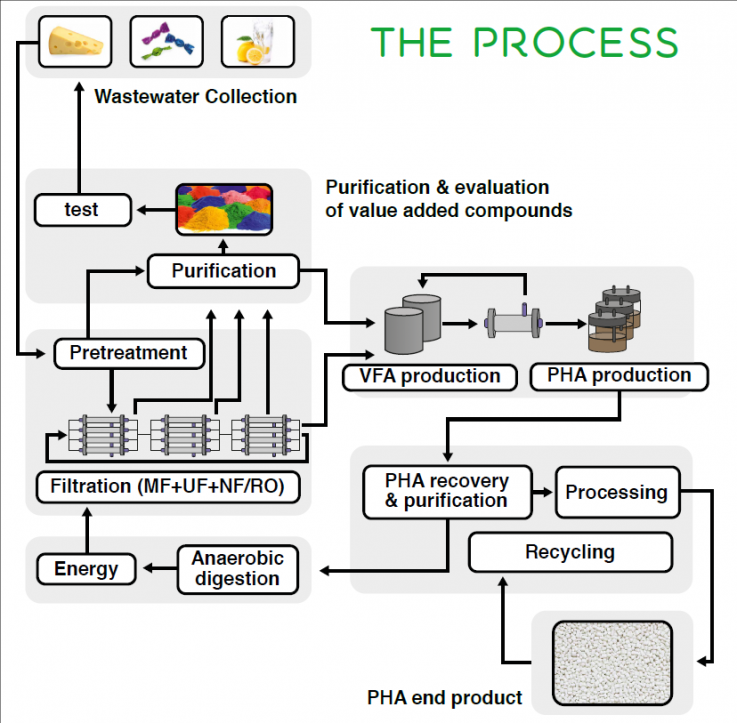 One role of Celabor in the project is to lead work package 2 and execute the work together with L'urederra and CTC partners.
Wastewater coming from three water-intensive food companies, processing citruses (Citromil), cheese (Heritage 1466) and sweets (Jake), are being processed, after characterisation, through various membrane filtrations (WP1). The first task of Celabor in WP2 is to analyse where are located the compounds of interest in the produced fractions. Then, the fractions containing the targeted compounds will be extracted using green technologies such as supercritical CO2 or conventional solvent extraction. The extracts could be concentrated through resins or precipitation methods. Some specific compounds such as limonene, hesperidin, limonin or vitamin C are going to be purified using CPC, resins and other packing-column material to get additional value. Their stability and their antioxidant/antimicrobial/anti-aging capacity will be assayed for their application as cosmetic additive and for the elaboration of different food products. Finally, according to the zero-waste strategy, all the residual products will be used to determine their potential as substrates for the acidogenic fermentation (WP3). Proteins fraction could also be valorised as raw material for industrial application (gelling additive, protein hydrolysates).

For further information or to follow the evolution of WP2, please feel free to visit the project website (http://afterlife-project.eu/) or to contact directly Dr. Marie-Caroline JONVILLE (mcj@celabor.be).