SALICHEM, a very promising Cornet project for industrial application
10 Juil 2017



The SALICHEM project closed in December 2016 with a meeting with German and Walloon industrial partners, scientific partners and a representative of the CORNET grant program.

The objectives of the project (recovery of halophilic plants for cosmetic or agro-food applications and production of biogas) have been achieved. The project was selected as a success story by the

CORNET

committee (https://www.cornet.online/success-stories/success-story-cornet-project-salichem/).

Spartina maritima rich in lutein, alpha-linolenic acid, phytosterols and tocopherols could be used as ingredients in dermo-cosmetic products or in food supplements. In addition, its structural carbohydrate composition being comparable to other second generation feedstocks, such as wheat straw and corn stover, Spartina could be used as a new source of biogas and soluble sugars for fermentation to ethanol. A key outcome of the project is that a preliminary extraction of the lipophilic compounds allows an increase in the rate of biogas and ethanol production. Therefore, value chain has been demonstrated and responds to the circular economy.

Scientific partners wish to move the research forward industrialization and maximize the exploitation potential of Spartina maritima. They are currently looking for new sources of funding.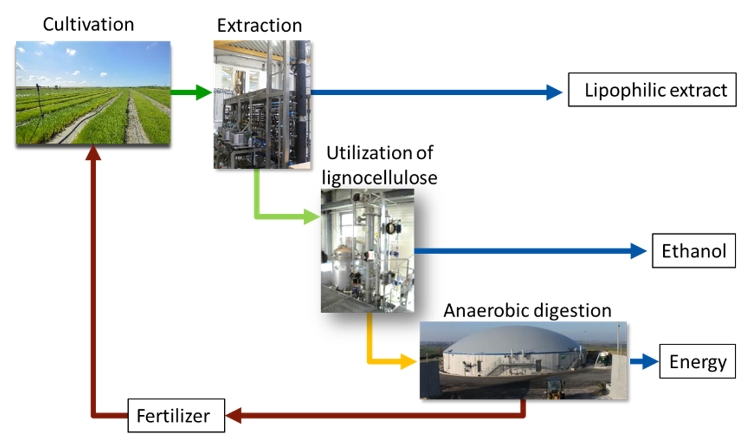 CELABOR wishes to thank the Walloon Region for having partially financed the project, the members of the user committee for their participation and the scientific partner, the PFI (Biotechnology, Pirmasens, Germany), for the fruitful collaboration.

For more information, please visit: http://www.salichem.eu/

If you are interested in these applications, please contact Dr. Marie-Caroline Jonville in charge of the project (mcj@celabor.be)