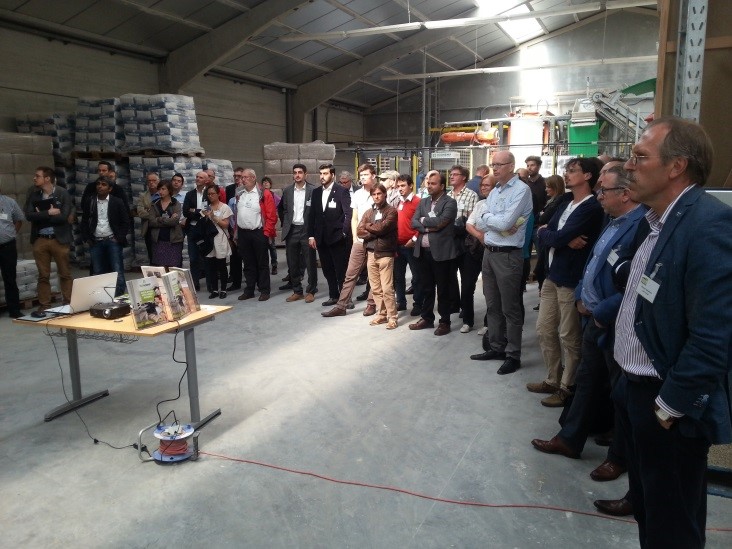 The EU Interreg IVB project 'Grow2Build' enters its final stage
. Around 50 participants from 6 European countries joined a final event in Namur, September 2
nd
. Among them many SME's, as well as representatives of research organizations, education and policy.
The Grow2Build partners hosted a visit to IsoHemp and ChanvrEco, two innovative producers of
hemp and flax based building materials
. Afterwards a selection of the results and the achievements of the Grow2build project were presented in Namur.
Topics discussed were improvement of
fire behaviour
of hempcrete blocks, results of a desk study on health and comfort issues related to the use of biobased building materials, bio-polyester as a matrix for
bio-composites
, results of a pilot on bio coating – based on linseed oil – for wood, (policy) recommendations for stimulating the use of biobased building materials. The day has been ended by a networking opportunity.
In the Grow2Build project a
consortium of 11 organisations
from Belgium, France, the UK, Germany and the Netherlands aimed to contribute to support the value chains of flax and hemp building materials in the North West European market,
from production of raw material to the production and implementation of end products
.
Main topics of the project were: (1) Product chain development (
network events
); (2) Optimisation of the quality of the resources (optimisation of cultivation and processing techniques); (3) Improvement of the performance of biobased building materials (pilots); (4) Development of the demand (
communication
).
In three years several bottlenecks in the
supply chain
of hemp and flax based building materials are explored, addressed and/or solved.
For more information about the project itself and the results and achievements please visit:
www.grow2build.eu
More results will be available soon. You can also visit the (physical and/or virtual) Grow2Build European centre of excellence at Brunel University (London), which guarantees the
continuation of the initiative
after project end:
http://sites.brunel.ac.uk/grow2build

Further contact and questions
: project manager John Verhoeven
E-mail
: john.verhoeven@wur.nl
Tel:
+31 0320 291349