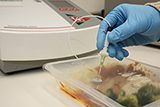 That's the challenge to overcame in EXTRUMiBi, the newest European research project (CORNET) at CELABOR. The kick-off meeting took place at CELABOR on October 1st with our research partners: Fraunhofer IVV (Germany) and ZUT-CBIMO (Poland).
The objective is to develop new active packaging for foodstuff by extrusion process, composed of biobased polymer and anti-bacterial agent. Solutions are already present on the market, made of a polymer lacquered with an anti-microbial solution. On one hand, this process does not require high process temperatures, and therefore does not threaten the stability and the efficiency of the anti-microbial agent. But on the other hand, this process does not meet the vast majority of industrial demand, where the packaging manufacturing process consists in the mixing of the different components at high temperature (above the polymer melting point), i.e. extrusion process. In this project, the 2 active packaging preparation processes will be studied, while giving priority to extrusion (which in more in line with the industry expectations).
The main challenge of the project is therefore to find a way to stabilize the anti-microbial agent at high temperatures, in order for it to remain efficient when extruded with the polymer, and to be released progressively and be active on the foodstuff. One of the technologies that will be implemented in that context is encapsulation. This step consists in enclosing the anti-bacterial agents into small capsules of sugar derivatives (cyclodextrines) or biobased polymers that are solid but porous. These capsules are a very good thermal shield and can be used to protect the anti-bacterial agent during the extrusion process, while letting them diffuse progressively in order to act on the foodstuff.
CELABOR's part in the project consists in:
- Selection of the vegetal raw materials, source of anti-bacterial compounds
- Production of several extracts from these materials in order to isolate anti-bacterial compounds with methods as environmentally friendly as possible (supercritical CO2, subcritical water, microwaves, ultrasounds…)
- Quantification of anti-microbial agents in raw extracts, encapsulated extracts and active packaging
- Study of mechanical properties, water vapour and oxygen permeabilities of active packaging
- Study of anti-microbial agents migration (from the packaging to the foodstuff)
The project will last for 2 years and therefore end in September 2015.