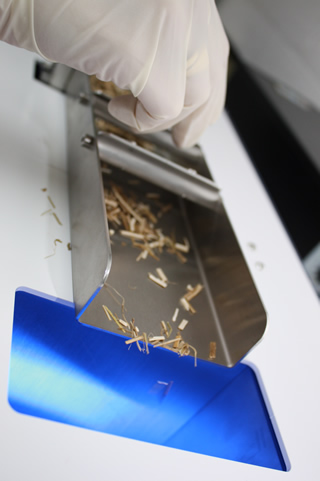 The use of natural fibres in replacement of glass fibres for the reinforcement of plastics is a current subject in consideration of the ecological trend and the progressive depletion of petrol resources.
Like all the natural materials, the natural fibres (notably from flax or hemp) must be well controlled in order to fully benefit from them. The value scattering and the reproduction in time are factors to be considered if one wants to gain the potential users' confidence.
For years, Celabor has been studying the granulometric and morphologic characterisation of short fibres used in the injection and extrusion processes.
Within the framework of the
CILAB project supported by Wallonia and Feder
, Celabor has acquired very sophisticated devices called particle analysers, and has adapted them, with the assistance of the manufacturer, to the study of fibres, which are very specific particles (taking into account their very different dimensions in both main directions).
You can access a synthesis of the running work and research in their current state.
The research still being in perpetual evolution (especially in the CILAB project), this document will be regularly updated.
Click here to read the article
(Document only available in French at the moment).
(Edit: new version of 25/02/2014)