New subcritical water extraction pilot
04 Oct 2012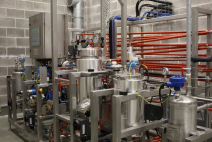 CELABOR recently acquired a unique equipment, used to extract solids with pressurized superheated liquids up to 200°C and 250 bars.

This allows for a significant reduction of the extraction time and the volume of solvent needed for the extraction.

One of the main goals of this installation is subcritical water extraction, i.e. liquid water heated at more than 100°C under pressure.
In addition to improved efficiency, water can sometimes substitute for solvent such as ethanol, with a significant improvement in terms of costs and explosion hazards.
First tests show that the treatment of vegetal matter done by CELABOR gives promising results.

Finally, the equipment is Atex certified and can be used with flammable solvents such as ethanol, acetone or hexane, as well as with liquefied and supercritical gases (CO2, propane).