Accelerated aging study and measure of dissolved and gaseous oxygen
13 Août 2012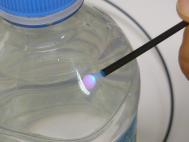 In order to maintain and control quality and shelf-life of foodstuff, it is vital to quantify the impact of oxygen on the reactions responsible for oxidative aging. Therefore, CELABOR has acquired 2 new equipments as part of the Micropack project, which is supported by Wallonia and Feder.
The first equipment is used to measure partial oxygen pressure in packed foodstuff. The measurement is non-destructive and uses optical sensors linked to an optical fibre measuring oxygen. This technique is based on the fluorescent quenching principle. This allows for the quantification of the oxygen sources (dissolved and gaseous oxygen) present inside the packaging.
Because it is important to understand food degradation phenomena and to optimise the packaging/foodstuff couple, CELABOR is using a specialised oven to accelerate oxygen transfer through packaging. This oven is used to develop accelerated aging tests for oxygen sensitive foodstuff, and thus to anticipate the evolution of products placed into packaging with different barrier properties.